Beyond King Tut: The Immersive Experience Exhibition

---

Beyond King Tut: The Immersive Experience Exhibition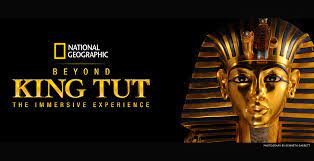 Descend into King Tut's burial tomb as you trace the 3,300-year-old story of the Egyptian pharoah's birth, life and death through nine, multi-sensory galleries. Following on the success of other immersive art exhibits telling the life stories of Vincent van Gogh and Claude Monet through their artwork, the National Geographic Museum in association with the Paquin Entertainment Group and Immersive Experiences traces the boy king's journey. It also features larger-than-life projections of historic artifacts from King Tut's final resting place. Thanks to immersive art exhibits like this one, these treasures which can only be viewed in person in Egypt are reaching a worldwide audience.
If you're looking to charter a flight to attend this event, Ascend Via Makers Air can help. Whether you're traveling for business or pleasure, we can get you where you need to go. To learn more about our charter services receive, please call us at (954) 780-8766 or request a quote. We look forward to helping you get where you need to go!
Related Events
Note: This information was accurate when it was published, but can change without notice. Please be sure to confirm all rates and details directly with the companies in question before planning your charter flight.